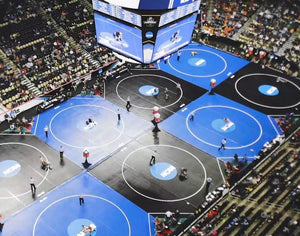 Welcome to the Academy
The St. Paul Wrestling Academy (SPWA) is extending an exciting new offer for the 2023-2024 session.  This new session will practice on Tuesdays and Thursdays starting November 14th and include 34 quality practice sessions for $300.

Whether you are an experienced wrestler looking to further advance your skills and practice with some new partners or a beginning wrestler looking to try the sport for the first time, the SPWA has a place for you! 
Join the Academy!
Every Tuesday and Thursday Starting November 14th at the Saint Thomas Academy Wrestling Room!
Coach Matt Mincey will lead Tuesday sessions while Coach Hayden Zillmer will lead Thursday sessions.

Dates: November 14th - March 21st
-
Younger / New Wrestlers:
Kindergarten - 3rd graders plus 4th-6th grade beginners

6:00 - 7:00 PM
_
Older / Hammers:
4th - 6th graders with experience plus 7th and 8th graders

6:45 - 8:15 PM